Street Art is a movement spreading across the world. People are turning once boring walls, or abandoned buildings into beautiful works of art. Through their art, the following are several street artists that work in the city of Paris are spreading beauty, as well as messages through their intricate works of art. 
Philippe Baudelocque
This street artist is best known for the large-scale murals he creates using various patterns and designs. After first painting the wall with black chalkboard paint, Baudelocque then creates his masterpiece with stark white chalk. This gives his artwork a very interesting white on black contrast.
Seth Globepainter
This famous Parisian street artist has left his mark in major cities all over the world. He often refers to himself as the Globepainter. His larger than life paintings are often very colorful depictions of citizens of the cities that he has been to. Active since the 1990's, Seth has transformed many dull walls all over the world into colorful masterpieces.
Seize
Seize is a Paris-born, self-taught artist. His work is best known for its bright colours and geometric patterns. As per the artist, his various colours and shapes are a language unto themselves, and he seeks to communicate with the public the purity of basic colours and geometric shapes.
Christian Guémy (C215)
Christian Guémy, or C215, is a street artist who primarily highlights the people "who society has forgotten" faces and their subtle nuances in his work. These often cover refugees, beggars, the homeless, and the elderly.  Amazingly, he only uses spray paint as a medium, working with his own pre-fabricated stencils.
David de la Mano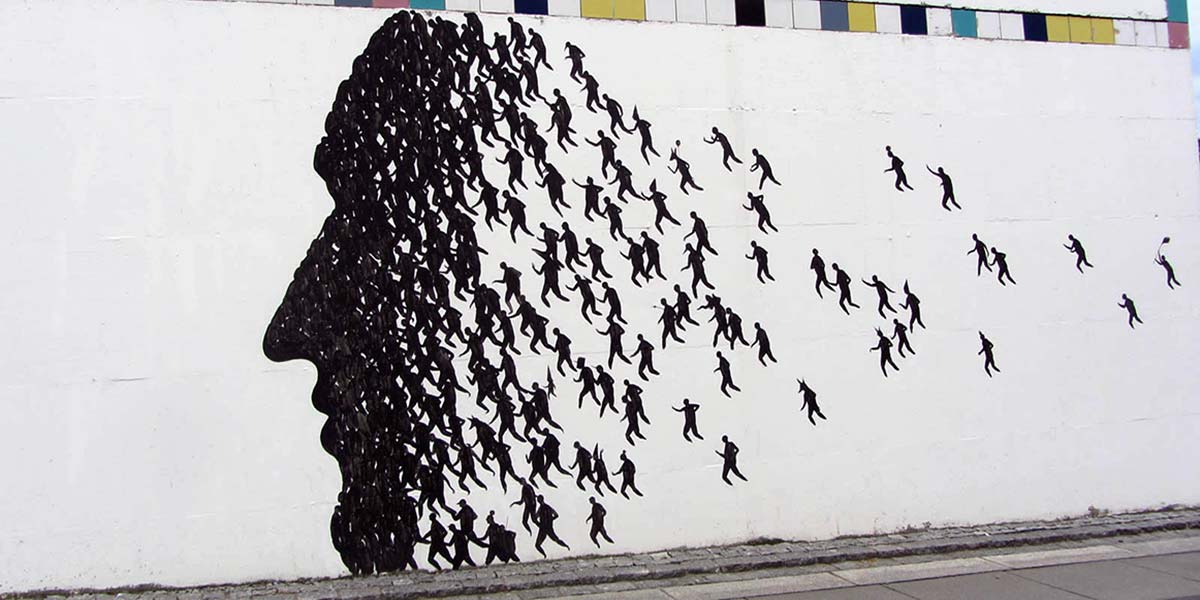 Spanish-born street artist David de la Mano is best known for his large, monochromatic murals. He draws his inspiration from various sources, such as ancient cultures, current events, and everything in between. He went through very traditional art training and began his career in street art when he saw Blu's, another street artist, artwork for the first time.
KASHINK
KASHINK, who is one of the few female street artists, generally uses male subjects for her murals. Her work can be recognized by their thick lines and very bright colours.  The men in her work seem to be derived from the Mexican Lucha Libre and are best known for their very thick lips and multiple eyes. She tends to display various political messages through her work. For example, one of her most recent works depicted same-sex marriage.
Lek & Sowat
These two artists operate under the joint name of Urbex. They specialize in transforming various abandoned structures into works of art. Best known for their part in the transformation of an abandoned supermarket into a Mausoleum for the disappearance of underground culture.
Roti
Roti, a Paris-born and raised, is a multi-talented artist, who seeks to blend his love of sculpting with his love of street art. His murals all have incredible amounts of intricate details and are all painted in his trademark black, white, and blue. He has done street art all around the world but continues to reside in Paris.
Julien London
This French street artist is known for doing things a little differently. Instead of painting large murals, he does his work through kinetic installations, digital mashups, and video mapping. His ingenious street art displays often have profound messages. For example, the picture featured above was part of his La Baiser expo. This was unveiled shortly after the recent terrorist attack on the city of Paris and is designed to spread love and peace throughout the city in troubled times.
Alexone Dizac
Dizac is another artist whose work began on abandoned property. He got his start painting abandoned subway trains in vacant lots. His work is easily identifiable by its colours and whimsical creatures. His work is playful and often involves puns. A lot of his work is done on canvas nowadays. However, he still does murals to liven up cities and walls alike.
These, along with many others, are making the streets of Paris a more beautiful place. Through their various mediums, colours, and styles, are all trying to make the world a better place